ISE launches new mentorship program

November 14, 2017
ISE seniors and industry professionals connect in the new mentorship program.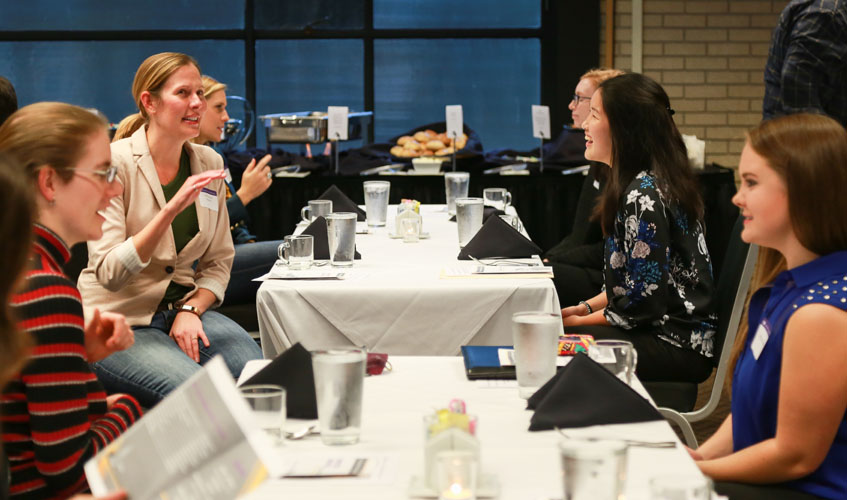 Mentors and mentees chat at the mentorship program launch event.
The Department of Industrial & Systems Engineering has launched its first ever mentorship program. The program is a collaborative effort between the ISE department, the ISE Executive Advisory Board, and the UW and Puget Sound chapters of the Institute of Industrial & System Engineers. Thirteen ISE seniors have been paired with industry mentors from a diverse set of Seattle-area companies: Accenture, Amazon, AT&T, Boeing, Hanson Professional Services, Kocer Consulting, and Seattle Cancer Care Alliance.
The program is devised to provide mentees with valuable guidance on how to transition from student life to the working world. Mentors will give advice regarding the lessons they learned while searching for a job, navigating the workplace, and developing their careers.
At the autumn quarter mentorship program kickoff event, mentors and mentees jumpstarted their relationships with food, fun, and conversation. The mentor-mentee pairs will continue to meet at least once a month throughout the 2017-18 academic year.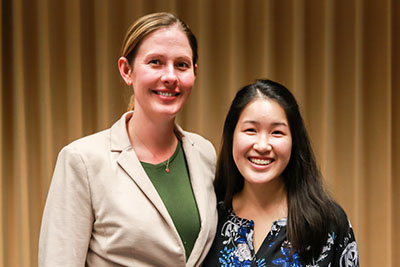 Mentor Tiff Cremer and mentee Kelly Hoang.
ISE senior Kelly Hoang, who also acts as a peer mentor for pre-engineering students, jumped at the chance to be a mentee in the ISE program. Kelly expressed her excitement for the program, stating, "I really hope to soak in as much knowledge and advice from my mentor as I can, to carry over in my transition to the start of my career. Specifically, I want to learn what it takes to work my way up to a leadership position in a company and how to best navigate the industry."
ISE hopes to increase the number of mentor-mentee pairs in subsequent years. If you would like to help guide students during the key transition from college to work, create a profile in the Alumni & Friends Directory and indicate your interest in being a mentor. Students are eager to learn from their mentors, and this year, there weren't quite enough mentors to match with all the students who applied.