ISE seniors win Simio competition

January 16, 2019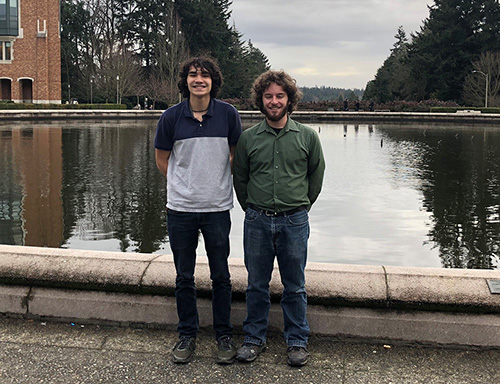 Congratulations to ISE seniors Ivan Iturriaga and Robert Crittenden for placing fourth in Simio's December 2018 Student Simulation Competition. Their team, Fields Good Inc, competed against 299 other teams from all over the world. ISE Lecturer Patty Buchanan, their adviser, says Ivan and Robert's achievement is especially impressive given that undergraduate teams are allowed up to four students.
Held twice a year, the competition presents a case study for students to model using Simio software. "The problem we were presented with was to model a corn seed sorting and processing plant," they explain. "For our solution, we modeled the seed both as discrete units of a specific weight and as a continuous flow to model the sorting, treating, and packaging sections of the problem. From this model, we were able to obtain information that allowed us to provide improvements to the existing process."
Ivan and Robert say winning the competition was great. "We feel like we lived up to a lot of the work that our professors at ISE have put into giving us a solid education." They extend special thanks to Professor Buchanan, "our role model."
Says Professor Buchanan, "I'm proud to have the opportunity to teach intelligent and hard-working students like Ivan and Robert. They took on this project on top of their already challenging course work and have shown a great passion for learning and personal growth."
Post UW ISE, Robert will go to work for Phoenix Contact in a Technical Sales role. Ivan has not firmed up his plans, but, he says, "I plan to use my ISE toolkit to improve systems wherever I end up."
We're sure they'll both go far. Congratulations!
Watch a video of Ivan and Robert's project on Simio's website.