By Amy Sprague
October 10, 2020
ISE's Oliver Kjellgren (ISE '20) didn't think he would have to do advanced prototyping at home when the academic year began last fall. Kjellgren, with fellow students Andre Chacon, Nicholas Jones, Rajat Singh and Maya Stuessi began work with life science company Millipore Sigma to solve a significant problem their lab technicians faced.
The food safety industry has a standard large size for sampling bags – and they're big. And if they are filled, they are heavy for one person and awkward for two people to lift in and out of the company's incubators. The company tasked the ISE capstone team with figuring out how to increase safety and employee ergonomics with process or equipment improvements.
The team devoted the winter quarter to studying the company's lab layout and mapping the process flow. Kjellgren notes, "The real constraints were the large size of the bags the company had to manage since they are industry standard and the contents could be hazardous substances, so employee safety was at the top of everyone's minds."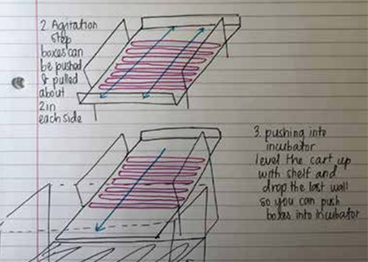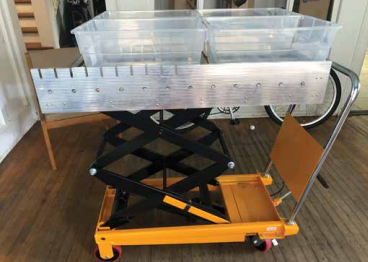 The team realized that lifting these bags or even boxes of these bags created unnecessary strain. The team decided on creating a modified hydraulic cart tailored to Millipore Sigma's lab.
Kjellgren notes that the transition in the spring was a little rough. "We went from accomplishing a lot in each meeting to having a difficult time figuring out how to manage remote meetings at all. It was hard to work through problems together because no one wants to sit on Zoom for endless hours. Then we shifted to assigning people problems to work through, and we learned to trust that the team would bring the solutions to the next Zoom meeting. We started to gain more momentum then."
The team ordered a hydraulic lift online, developed CAD models of modifications to the cart, including a tray and roller system. After 3D printing various configurations of rollers and testing them for weight requirements and stability, they sent their final solution to a manufacturer to produce them in aluminum as well as custom screws, steel rollers and brackets to hold them in place.
At the end of the year, the capstone team was able to deliver a full prototype to Millipore Sigma as well as CAD designs for them to manufacture more specialized hydraulic lifts.
Patty Buchanan, the team's faculty adviser, said, "It really was inspiring to see this team do what engineers need to do and adapt to the situation. While the client was ready to give them some leeway with the project due to the pandemic, they figured out how to deliver and produced a great product."
---
This ISE capstone won third place in the department's competition. The team included Andre Chacon, Nicholas Jones, Oliver Kjellgren, Rajat Singh and Maya Stuessi with adviser Patty Buchanan in regular consultation with Millipore Sigma's Jordan Kestel. To see more about the methodologies and results of this project, check out the team's final project poster.