December 19, 2017
The University of Washington has joined the Center for Health Organization Transformation (CHOT), a National Science Foundation (NSF) funded Industry-University Cooperative Research Center focused on providing innovative, evidence-based transformational strategies in healthcare.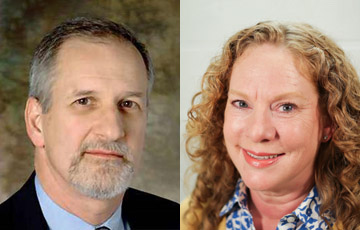 Joe Heim and Christina Mastrangelo
The Department of Industrial & Systems Engineering (ISE) and the Department of Health Services (HS) will lead the site. ISE associate professor Christina Mastrangelo will act as director, with ISE research scientist Joe Heim and HS affiliate associate professor Cynthia LeRouge acting as assistant directors.
The UW site will receive $250,000 in funding per year in an initial three-year agreement — $100,000 from the NSF and $50,000 from each industry partner. CHOT's driving force is the industry-university partnership, and the University of Washington has partnered with three local health services providers: Carena, a telemedicine provider; Philips Health, a developer of radiology solutions; and Seattle Children's Hospital, the leading pediatric medical center in the region. Together, industry partners and UW researchers aim to develop strategies that will tackle pressing, real-world healthcare problems.
With the addition of the UW, CHOT has grown to an eight-university entity. Other CHOT members include Texas A&M University, Penn State University, Georgia Tech, the University of Louisville, Florida Atlantic University, the University of Alabama, and the University of Nottingham. Together, the eight universities have formed partnerships with more than 30 organizations from across the health services sector.
The UW's position as the only CHOT member on the west coast provides opportunity to engage with healthcare organizations throughout the Pacific Northwest. By joining CHOT, the UW will be able to take advantage of its position as the regional leader in health services.
According to Bita Kash, CHOT center director, "CHOT depends on the expertise and leadership that the University of Washington has already been able to provide over the last two years interacting with other CHOT university sites and researchers." ISE has collaborated with CHOT since 2013, in which time it has conducted research with Carena and Philips Health.
Industry projects are already underway, and these projects will harness the UW's expertise in the physical, virtual, economic and social aspects of healthcare strategy and delivery. For example, the UW will be investigating system factors that impact Carena's direct-to-consumer telehealth service as well as optimizing usage of Philips Health's MRI equipment.
The CHOT membership brings benefits to UW students and faculty alike. Undergraduate and graduate students will gain experience in health services research, while faculty will be able to make connections with both the industry partners directly affiliated with UW and those affiliated with the other CHOT sites.