Janine Bufi
June 21, 2022
Image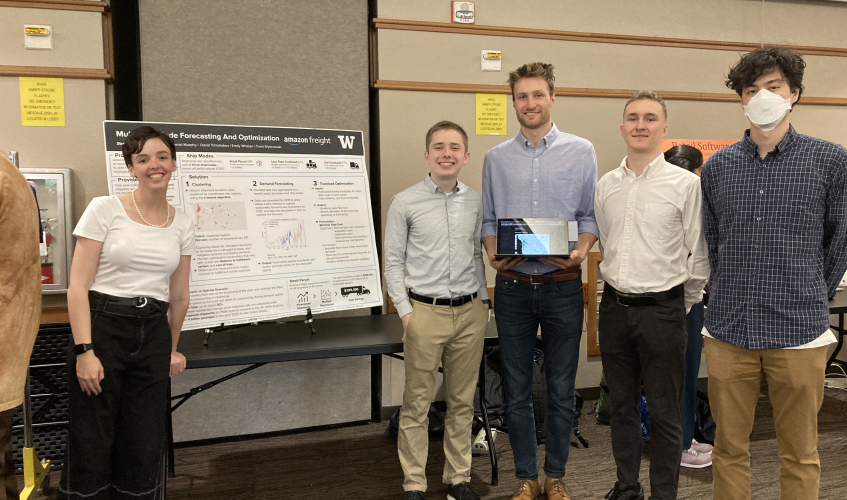 Capstone team members: Emily Whelan, Daniel Murphy, Trent Wydrowski, Daniil Tchistiakov, Drake Foster
Congratulations to the UW's ISE Department for the recognition they received at this year's Institute of Industrial Systems Engineering (IISE) Conference! The capstone team sponsored by Amazon won second place at the national conference's Outstanding ISE Capstone Senior Design Project Competition for their project on "Multi-shipmode demand forecasting and optimization." Funding for the students' conference registration was provided by the Professor Brian W. Mar Endowed Memorial Fund and the IISE student group.
But that wasn't the only distinction the department received. Many of the department's faculty took part in panel discussions while UW ISE undergraduate students Lucas Johnson, Sydney Brusnighan and Jungmin (AJ) Ahn participated in the undergraduate symposium. Rounding out the honors, in the IISE Doctoral Colloquium, The Track 2 Healthcare & Human Systems winner was Jundi Liu with Tianchen Sun receiving an honorable mention.
This year's conference was held in Seattle and was well attended by ISE students, faculty and alumni alike. The successes of the students and faculty made for an enthusiastic return to an in-person conference.
Next year's IISE conference will be held in New Orleans, LA and will be the 75th anniversary of the Institute.