April 11, 2023
Image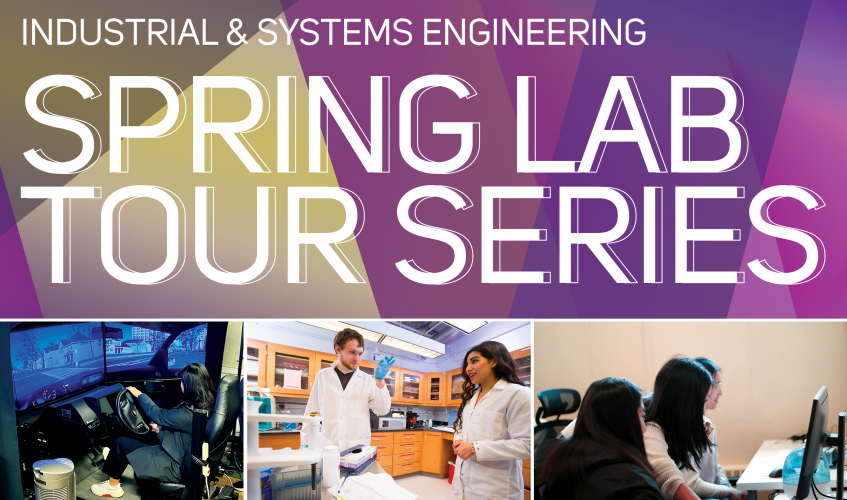 Attention all Undergrads:
Are you curious about the world of Industrial & Systems Engineering (ISE) but not quite sure what it entails, where to start, or who to ask? 
Join us for our engaging Spring Lab Tour Series
Every Thursday
April 20 through May 25
4p.m. to 5p.m.
Hosted by current ISE students for ISE-curious students, these tours will provide you with hands-on demonstrations, candid conversations and an inside look into the fascinating and varied work being done by our students and faculty. 
Regardless if you have declared your major or not, this is an opportunity to experience ISE up close and personal, in a friendly, accessible and interactive environment. Our tours will help to demystify this enigmatic field, and reveal the versatility and real-world relevance of an ISE education. 
Participating Labs include:
Behavioral Research in Information and Computer Security (BRICS) Lab

At the BRICS Lab, assistant professor Prashanth Rajivan and his research group are working on problems at the intersection of human factors and cyber security to understand the social and cognitive processes that people use to detect malicious signals online. This includes studying the cognitive processes associated with the detection of phishing emails and misinformation on social media platforms.
Dates:

Thursday, May 11, 4p.m. - 5p.m.
Thursday, May 18, 4p.m. - 5p.m.

Location:  ELB B13

Human and Systems (HAS) Lab

The HAS lab, led by Assistant Professor Ji-Eun Kim, is a research group devoted to investigating several areas within the fields of human performance modeling, neuroergonomics, and cognitive engineering, with a primary goal of designing work systems that better accommodate individual differences.
Dates:

Thursday, May 11, 4p.m. - 5p.m.
Thursday, May 18, 4p.m. - 5p.m.

Location: ELB B11

Human Factors and Statistical Modeling (HFSM) Lab

At the Human Factors and Statistical Modeling Lab, Professor Linda Ng Boyle's research emphasis is on investigating how people's behavior impacts their risks of injuries and mishaps. This includes exploring why drivers crash and why operator errors occur. Professor Boyle and her research assistants use a wide range of innovative analytical approaches to solve problems related to human factors and transportation systems.
Dates:

Thursday, April 20, 4p.m. - 5p.m.
Thursday, May 11, 4p.m. - 5p.m.
Thursday, May 18, 4p.m. - 5p.m.

Location: ELB B9

Scale-independent Multimodal Automated Real Time Systems (SMARTS) Lab

Assistant Professor Ashis Banerjee serves as the Director of the SMARTS Lab. His research focuses on developing automated decision-making methods for cyber-physical systems to achieve optimal and robust performances.
Dates:

Thursday, April 27, 4p.m. - 5p.m.
Thursday, May 4, 4p.m. - 5p.m.

Location: MEB B012
The Spring Lab Tour Series will also feature a special Info Session with Industrial Engineers from The Walt Disney Company on Thursday, May 18, 4pm in Sieg Hall 332. Our guests will be sharing about the many exciting opportunities for industrial engineers at the House of Mouse, and how our students can apply for internships and full-time positions. Learn more about this special event HERE.
Image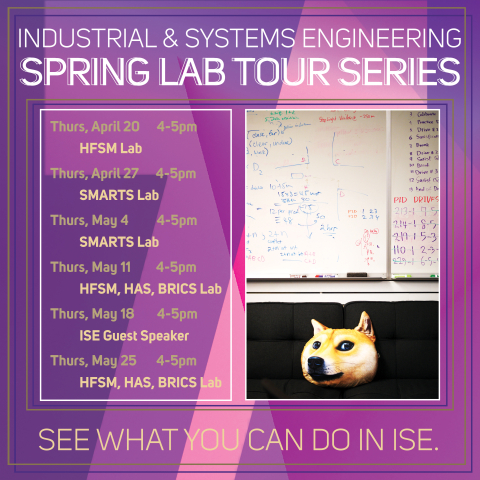 For questions, reach out to ISE Marketing & Comms Director, Abel Charrow - abelc@uw.edu