Abel Charrow
Image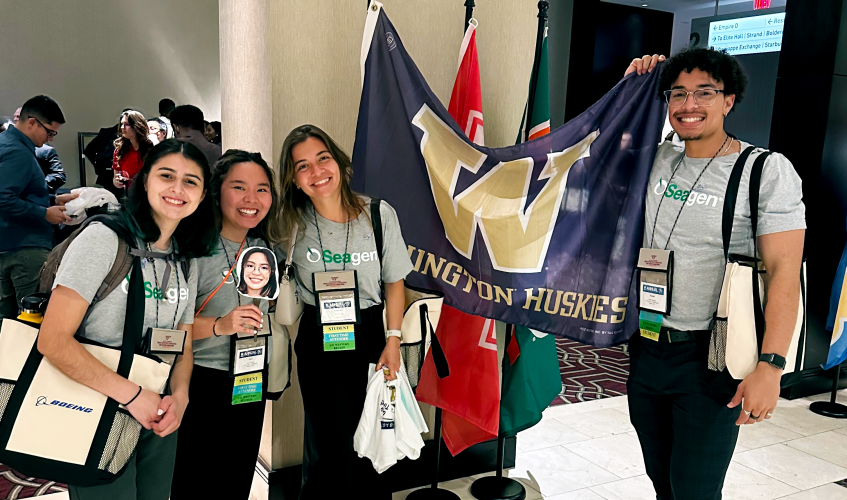 In 2018, Seagen, a biotech developer of cancer-fighting therapies, experienced an unexpected equipment failure that temporarily debilitated their North Creek, Washington, production facility. The culprit was a standard industrial chiller, one of the plant's many pieces of equipment that predated Seagen's residency at the site, and which was now connected to refrigerators storing highly-sensitive batches of cell cultures in various stages of the production cycle. Replacing the chiller became the highest priority of the day – and a day was all they had. If left unresolved, within 24 hours the contents of the refrigerators would be ruined, resulting in approximately $1.2 million in production losses.
While unplanned shutdowns are an unpleasant inevitability in all industries – one that, according to Forbes, the average manufacturer experiences 800 hours-worth per year – few companies ever find themselves in the situation Seagen was facing. In most production halts, downtime costs accumulate as the clock ticks up. In Seagen's case, the clock was ticking down.
Fortunately, a back-up chiller was located and the treatments preserved, but the close-call highlighted for Seagen the need for a comprehensive assessment of their vital utilities and their conditions. For this task, they turned to the University of Washington's College of Engineering's Capstone Program, which brings together students with companies, nonprofits and government organizations to collaboratively solve real-world problems.
Bringing in the big Dawgs
"We're looking at a continuous fourteen day production cycle. That's how long it takes the cells to mature," says Tionni Trieu, a mechanical engineering (ME) student. "Our goal is to make sure nothing fails within those fourteen days. Those are the stakes we're working with." Trieu is one of the SeaDawgs, a team of interdisciplinary engineering students who have dedicated their senior capstone to completing a reliability analysis of Seagen's critical systems. She is joined by two fellow MEs, Alex Amimoto and Josiah Hampton, and two industrial & systems engineering (ISE) students, Gabrielle Lazo and Maryam Sanchez.
Related story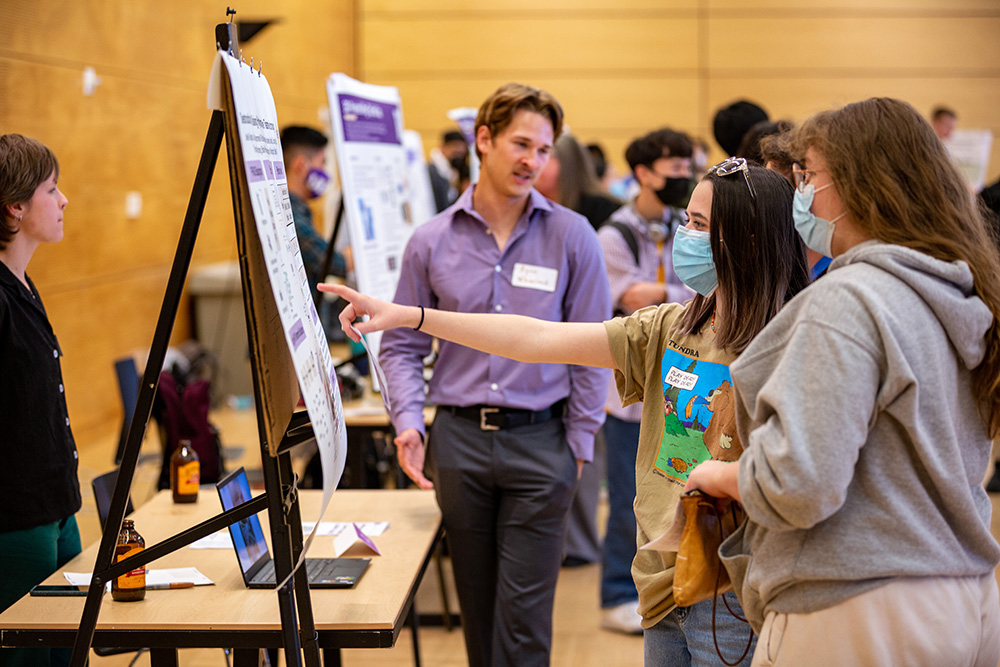 Capstone
Companies, nonprofits and government organizations all turn to the College of Engineering to tackle real-world engineering challenges through the Capstone Program. Click the link above to learn more and get involved.
The SeaDawgs promised Seagen an ambitious list of deliverables: a detailed record of 94 pieces of equipment, a single ranking framework that could quantify the integrity of each piece through a sensitivity analysis, a reliability block diagram (RBD) that would illustrate the stresses of each component on the entire system, and a digital twin of Seagen's entire network of utilities in the simulation program, Simio. Accepting the certainty of surprise failures was always part of the equation. "We can't predict when equipment is going to fail," says Lazo, "but we can provide indicators for which ones are your problem-children."
While preventing costly downtime certainly helps a company's finances, Seagen's Director of Facilities and Engineering, Pedro Blanco, stresses the value of the SeaDawgs' efforts extends far beyond the bottom line. "A disruption in any of our critical utilities can potentially impact thousands of people's lives that depend on our cancer treatments," explains Blanco. "Patients who use our drugs, in general, have failed conventional treatments. Therefore, our products are extremely significant in their lives and their families." Seeing the bigger picture is a trademark skill of a systems engineer, and helps one recognize the flashy equipment in the laboratories are at the mercy of the workhorses in the boiler rooms. "We cannot afford losing a chiller or losing the HVAC system."
Blanco and his colleague, Randy Ernst, served as company sponsors for the SeaDawgs, noting the capstone program has been an effective tool in identifying and recruiting future talent at Seagen – which earlier this year, struck a $43 billion deal to be acquired by Pfizer. The SeaDawgs gained valuable real-world experience and insight from the collaboration, as well as guidance every step of the way from their mentors ISE Assistant Teaching Professor Patty Buchanan, ISE Associate Professor Christina Mastrangelo, ME Assistant Teaching Professor Eli Patten and teaching assistant Michelle Song. They also found a unique mentor in Randy Rhoades, a veteran maintenance engineer at Seagen, whose deep familiarity with the company's complex utilities far surpassed any written record. With Rhoades patiently leading the team through the facilities and providing both historical and practical context of the operation, the SeaDawgs were able to meticulously document his institutional knowledge. This relieved Seagen of a reliance on – and Rhoades the burden of being – a one-man fix-it crew.
Communication is key
A project of this size requires a team of interdisciplinary skills, and the SeaDawgs benefited from their backgrounds in ME and ISE. But when asked what quality each brought to the team, the connecting thread is strong communication: Lazo is identified by the others as the spokesperson, Hampton the presenter, Sanchez the writer, Trieu the listener and Amimoto the organizer. Collectively, no detail goes unnoticed. "They always have amazing questions for us," says Blanco. "Because they are coming from different backgrounds, they complement each other, and that makes the team even much better. I'm amazed with their communication skills, how organized they are and how they look towards their future."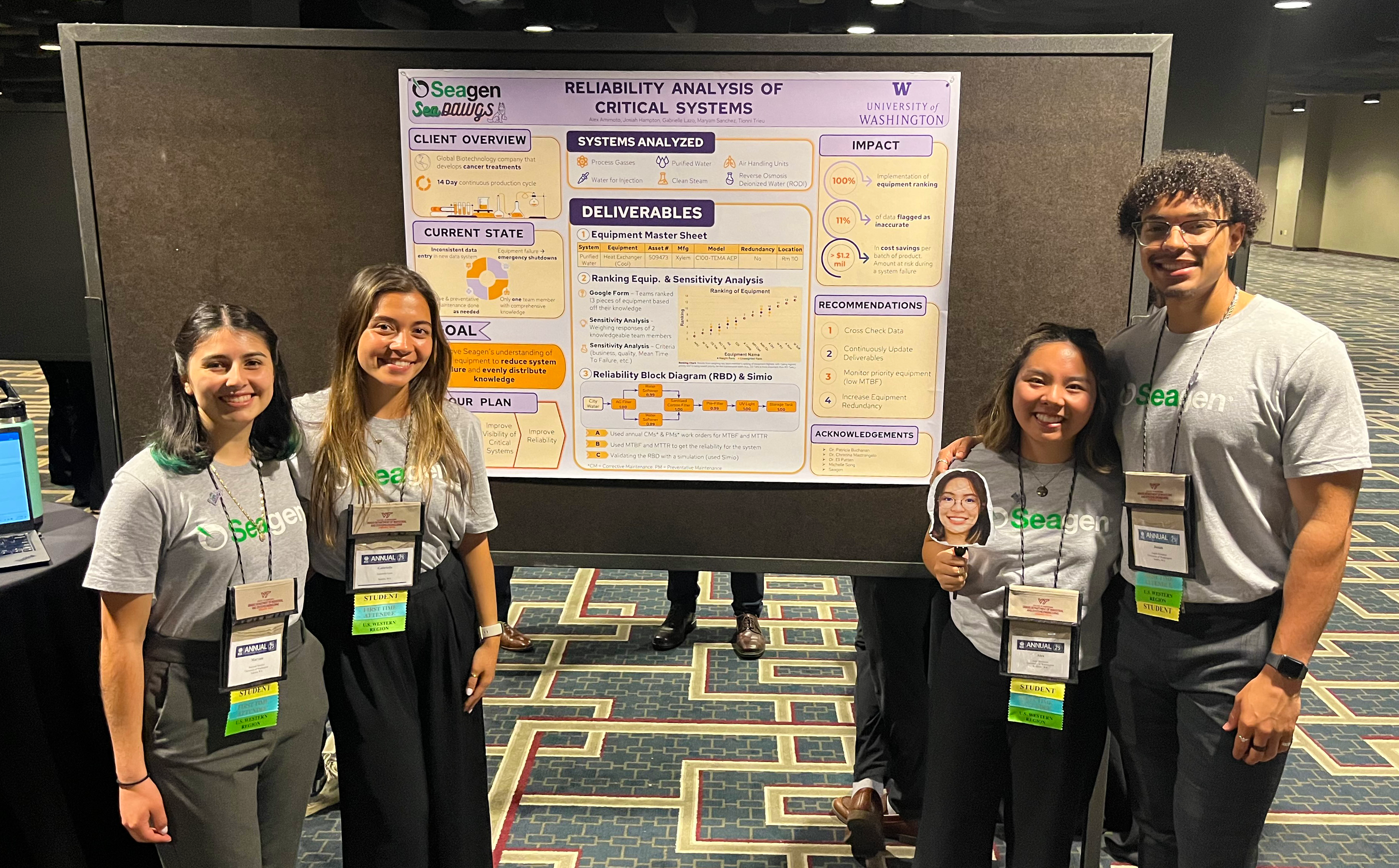 Recognition of the team's efforts extends beyond Seagen or the College of Engineering. Their final presentation, titled "Reliability Analysis of Critical Systems," was one of the few chosen to participate in this year's international Outstanding ISE Capstone Senior Design Project competition. This past week, the team journeyed to New Orleans, Louisiana, competing at the event as part of the Institute of Industrial & Systems Engineers (IISE) Annual Conference & Expo, and placing respectably among the top sixteen while receiving high praise for the content and aesthetics of their poster.
The competition was merely one of the numerous activities on the team's jam-packed conference agenda, prepared by Amimoto, the organizer. They also attended workshops and lectures on topics as varied as modeling in manufacturing and healthcare, human factors and the future of work, sustainability development, and facility and energy management. Other important items on their New Orleans itinerary included gumbo, jambalaya and alligator hot dogs.
Upon returning to Seattle, the SeaDawgs presented earlier this week at the UW Mechanical Engineering Capstone Expo, coming out with two awards: Best Poster, and, unsurprisingly, Most Effective Team Communication. They will again present this Friday, at the Industrial & Systems Engineering 2023 Capstone Showcase. Other student projects competing feature collaborations with Access Laser, Amazon, Boeing, Goodwill, Kestra, King County, Korry, MilliporeSigma, Paccar, Path, Snohomish County, Starbucks and T-Mobile. Cash prizes, generously sponsored by the Mar Family and Boeing, will be awarded to the winning teams.
Whether you're an undeclared student interested in learning more about the field of ISE, or an industry recruiter looking to find the next generation of brilliant engineers, all are welcome to attend. The ISE 2023 Capstone Showcase will be held at the Center for Urban Horticulture (NHS Hall), located at 3501 NE 41st in Seattle, from 1:00pm to 3:30pm on Friday, June 2.
ISE CAPSTONE SHOWCASE

Date
Friday, June 2, 2023

Time
1:00p.m. - 3:30p.m.

Place
NHS Hall
Originally published May 31, 2023