ISE undergraduate team wins FlexSim competition
March 15, 2017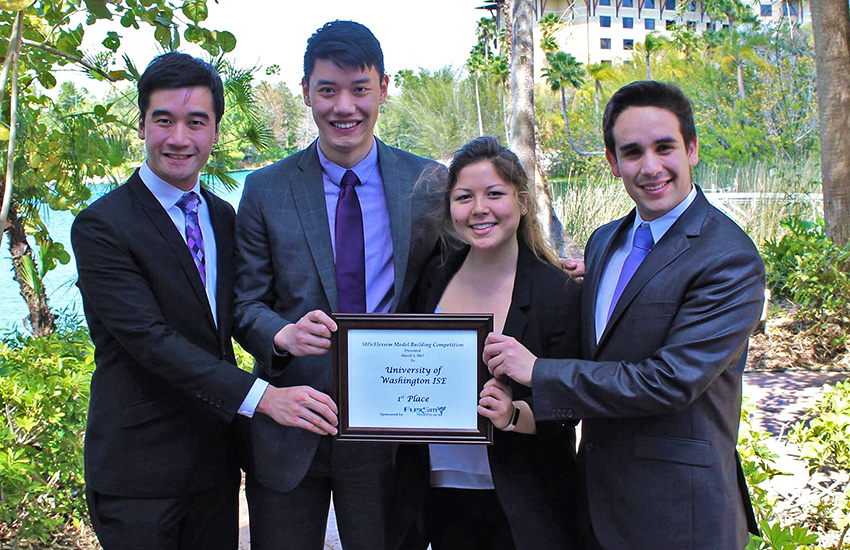 The winning team, from left to right: Rungpatch Nethnapat, Dustin Wang, Courtney Seto, and Brandon Pittaway.
The ISE team, composed of undergraduate students Rungpatch Nethnapat, Brandon Pittaway, Courtney Seto, and Dustin Wang, took first place at the Institute of Industrial and Systems Engineers FlexSim Software Student Simulation Competition. ISE was up against thirty teams from six different countries, and the team received $2,500 for their first-place finish.
Congratulations on winning the FlexSim competition!
FlexSim is a simulation software that helps its users analyze healthcare systems to evaluate how the different components affect patients. In this competition, student teams were tasked with optimizing the layout of St. Joseph's Regional Medical Center in Paterson, NJ to minimize patients' length of stay. This real-life case study presented the opportunity to improve the services at New Jersey's largest provider of charity care.
The annual competition was held earlier this month at the Healthcare Systems Process Improvement Conference and was organized by the Institute of Industrial & Systems Engineers' Society for Health Systems. At the competition, the team presented their work to a panel of ten judges from the healthcare industry.
The team members came together from differing backgrounds, and only one of them had previous experience with FlexSim. Despite technical difficulties conducting the experiments—due to a lack of computer processing power to run the complex models—they managed to come up with an optimized model and impress the judges with their insights at the finals. Bolstered by their success, the team plans to enter more competitions in the future.