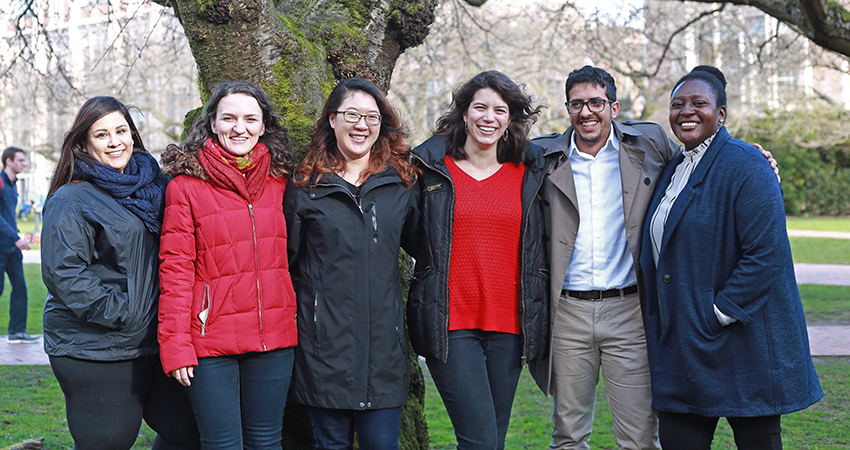 ISE graduate students pictured, from left to right:
Aven Samareh (Ph.D., '18, Iran)
Merve Merakli (Ph.D., '19, Turkey)
Michelle Song (M.S., '18, United States)
Larissa Prates Guimarães Petroianu (Ph.D., '19, Brazil)
Aziz Aldawood (M.S., '17, Saudi Arabia)
Tolu Abe (Ph.D., '17, United States)
In the basement of the Mechanical Engineering Building lies room B14, which houses the Industrial & Systems Engineering graduate student lab. It's intended as a place where students can come to study, but it's also where global friendships are being forged.
The students who fill the room hail from around the world, from the middle east to the mid-west. They reflect the reality of ISE, a highly diverse department. The majority of full-time ISE graduate students are international students, and the department counts students from more than a dozen countries among its ranks.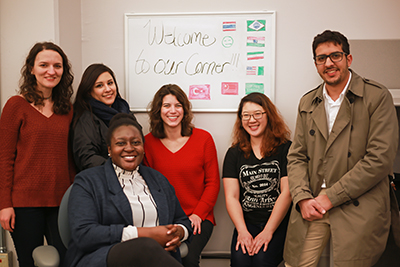 Tolu Abe (Ph.D., '17) has been here the longest of this particular group of friends. She's made connections with students who have come and gone, but this group is one of the largest and closest that she has been a part of. Any differences between these friends fade behind a brilliant sense of camaraderie with a significant dash of humor. The whole group chimed in with pride that Tolu had just successfully defended her dissertation, deferring to her now as the doctor.
It's not all work and no play for these students. Summer is an especially social time for ISE graduate students, when the lightened workload leads to weekly happy hours spent in the sun. When asked what united them, the unanimous answer was food, the great unifier being chocolate.
The group's conversation veers from aspirations for post-graduation success to shopping tips for graduate student budgets. They speculate about the cohort that will start next fall and fondly recall students who have since moved on, though social ties still remain with these alumni. It's not only an educational experience that these students are sharing, but a life experience.
Learn more about diversity in the ISE department here.