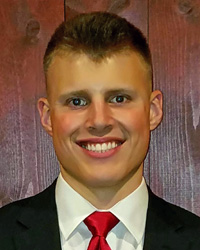 Matt Doremus
BSIE 2015
Industrial engineer
Boeing
What made you pick ISE as your major?
Ever since I was little, I knew I wanted to be an engineer. However, it wasn't until my first year of training in Air Force ROTC that I realized I have an equal passion for cultivating leadership as I do for solving tough problems. As I began looking into the different career-fields within engineering, I was intent on finding a fit that would enable me to fulfill both passions at the same time. ISE was the best choice for learning the tools and methods of engineering that enable students to become true business and community leaders.
The skill set I gained from ISE has allowed me to find solutions to challenging problems in all areas of my life. When it comes down to it, the most valuable skill to have when presented with a difficult problem is the ability to find and communicate a good solution to that problem. That is a fundamental skill of a good engineer, a good leader, and that is what you effectively learn to do as an industrial engineer.
What do you do at work, and how does your background in ISE apply?

I work in a manufacturing plant that fabricates composite components and assembles those components into large airplane assemblies. Because our plant pioneers and specializes in integrating advanced manufacturing technology, I get to spend much of my time working with teams on the floor to solve emergent problems, create and improve metrics that feed business performance, and teach and coach lean principles such as systematic problem solving.

I also have the opportunity to work with many senior managers and executives on special projects related to operations strategy, variation reduction strategy, and even business culture transformation. For all of these projects, I rely heavily on data-analysis skills, statistics, problem-solving methods, presentation skills, and public speaking. I have already used everything I learned in ISE at one point or another in my career. The more you know, the more value you can offer!

What were the most important things you learned from ISE?

The most important thing I learned in ISE is how to approach a project or problem. Simple approaches such as "Plan, Do, Check, Act" or "Define, Measure, Analyze, Improve, Control" offer a structure that is invaluable when tackling a new project. Systems thinking, process control techniques, and project management skills help a young employee add huge value to an organization simply by knowing how to effectively manage and solve problems in a predictable manner.

I also find strong lean and Six Sigma knowledge to be a huge benefit in a manufacturing environment. These business approaches have authority in manufacturing industries for good reason: when they are properly applied, they produce consistently good results.

Finally, ISE taught me soft-skills and professionalism that are immensely important in a corporate environment. People assume that an industrial engineer is going to be pretty good at building charts in Excel. However, if you are also good at working with and relating to other people, your career will have a very bright future.

What was your proudest moment as a UW ISE student?

By far, the proudest moment was when our Senior Design Team won second place in the final competition. After the hurdles we faced and overcame during the six months we worked on our project, second place felt incredible. That and the $1,000 prize makes for a pretty good day. Just remember—when in doubt, wear a suit.

What is your proudest achievement in your work so far?

My proudest achievement in my work has little to do with saving the company money or getting selected for new opportunities. My proudest achievement is walking around the factory floor each day and knowing the names of every mechanic I work with and knowing that they know mine. It's important to excel at whatever you find yourself doing in life. However, the only thing that lasts in the long run is how you treat other people and the quality of relationships you build along the way.

What is one thing you wish you would have done as an ISE student that you didn't?

I had an incredible time as an ISE student and will always look back on those years with a smile. However, if I had it to do over, I would spend more time learning the concepts in every class I took. Plain and simple, the more you know, the easier your professional life is going to be.

What advice do you have for current ISE students?

The professional world values deep understanding. Don't just learn the math so you can get a good grade on the test. Become an expert in the principles you are taught. They are invaluable.

What advice do you have for graduates as they start their employment search?

If you want to be offered a good career, start doing the right things today. Work hard, work smart, work with others, build your resume, and be persistent about setting and achieving goals. If you don't decide to do these things, then you don't really want to be successful—you might just like the idea of it. You have to decide for yourself if you are willing to be the person you would want to hire as a competitive employer.

Some excellent ways to set yourself apart as a student are to get involved in the Institute of Industrial & Systems Engineers and start networking with people who are in the industry you'd like to pursue. Work hard on your resume and make sure it highlights your strengths. Treat yourself and others with respect, and don't be afraid to share your goals and plans with the people who can make them happen for you. All of this starts with being honest with yourself about where you are today, where you want to be tomorrow, and what you are willing to do to close the gap.