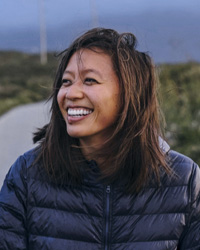 Susie Lu
Painting + Drawing & BSIE 2010
Data Viz Engineer
Netflix
What made you pick ISE as your major?
My mom encouraged me to look into the engineering majors because she thought they would be a good fit for me. I had always been interested in math and science, but knew I wanted to do work that was more applied than pure research. I was drawn most to ISE out of all of the engineering majors because I liked the business and people side of the major.
What do you do at work, and how does your background in ISE apply?
I spend most of my time programming. I make custom data visualization applications at Netflix to help the business effectively look at the data we collect. The rest of the week is spent collaborating with colleagues on current projects, meeting with stakeholders, and building skills in whichever area I'm focusing my professional growth in at the time.
The human factors class I took in ISE has been very helpful. Since I'm building applications, the design principles from that class can be applied to understand my audience and build out thoughtful applications that are easy for them to use. All of the statistics, modeling, simulation, and design of experiments classes have also really paid off. Many of the dashboards I work on use statistics to calculate if changes in the data we are seeing are significant. We even have a dashboard for AB testing that our team works on. Having had exposure to all of these concepts has made conversations with the users of these applications much easier.
What were the most important things you learned from ISE?

Learning to work collaboratively was a huge part of what I learned from ISE. I was the president of the student group in my senior year. That was such an enjoyable experience because all of the officers took their roles seriously, and I was able to delegate, rely on them, and give them freedom and responsibility regarding their jobs.

What was your proudest moment as a UW ISE student?

My proudest moment was at graduation when professors from both the ISE and Art Departments nominated me for Dean's Medals, and I received one from each college.

What is your proudest achievement in your work so far?

So far, it has been looking back at all of the dashboards our team has made at Netflix in the last year. It's so rewarding to build an application and have users tell us that it's a delight to use. We're helping the business get more out of their data than they ever have before.

What is one thing you wish you would have done as an ISE student that you didn't?

I wish I had taken classes outside of my two majors. I think I would have really enjoyed classes in psychology, ethnography, and anthropology. So much of our world is about people. Taking the time to understand people, and how they think and work, would have been insightful.

What advice do you have for current ISE students?

Focus on your strengths. Find what you are good at and become exceptional at it.

What advice do you have for graduates as they start their employment search?

Answer the "so what?" question for each point you make on your resume. It's one thing to state what you did on a project or at a job, but it's so much more valuable to explain the impact: how it impacted your team, the business, and especially revenue for the company.