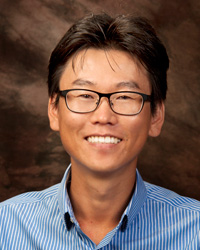 Jay Kim
Ph.D. 2012
Assistant Professor
Oregon State
How did you get interested in ISE, and why did you select it as your field?
Initially, I got interested in the field because it covers both engineering and management. It was very interesting to learn how ISE optimizes environments (systems, organizations, machine, etc.) and humans given a series of constraints. I like the holistic approach of ISE.
What is the focus of your work in ISE?
My major research foci are occupational ergonomics and biomechanics. I am particularly interested in developing and evaluating evidence-based interventions to reduce physical exposure in order to prevent occupational injuries and illness and, therefore, improve workers' health and well-being. I am currently studying how reduced exposure to whole-body vibration (WBV) affects musculoskeletal health outcomes and disability. I am also interested in optimizing human interaction with touch screen mobile devices.
What were the most important things you learned from ISE at UW?

My Ph.D. program shaped my future by helping me advance my core training in occupational ergonomics and also helping me develop a rigorous background in statistics as well as computer programming. The depth and breadth of my Ph.D. training at ISE has been of indispensable value for me personally and to my career.

What was your proudest moment as a UW ISE student?

When I was nominated as the community innovator of the year. Also, I gave the speech at my ISE graduation ceremony.

What is your proudest achievement in your work so far?

Every single research project and publication I have worked on that has contributed to the field of occupational ergonomics for the long-term goal of reducing work-related injuries and illnesses.

What is one thing you wish you would have done as an ISE student that you didn't?

I wish I would have been involved in more student organizations and interacted with more ISE faculty members. Also pursuing an internship could have been helpful.

What advice do you have for current ISE students?

Have fun while you do what you need to do. Keep trying until you find what you love and are passionate about. Never settle. (There is no such thing "good enough.") There are always ways to improve things, and please remember, engineers makes things, but we also make them better.

What advice do you have for B.S. or M.S. students looking to continue their studies in ISE?

You may not have found all there is to know about ISE, as I'm still learning new things about it now. Please keep exploring, as there are endless possibilities in ISE.