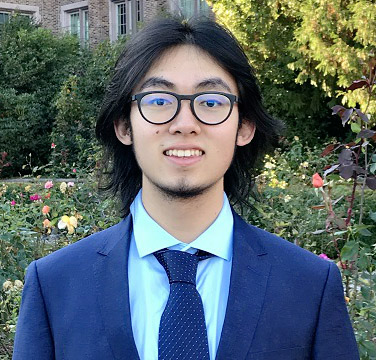 How did you become interested in engineering and in UW ISE in particular? Tell us about the pathways leading you here.
First of all, I chose engineering because I'm interested in designing and building things. After applying for the engineering majors, I was lucky that I received offers from the mechanical, electrical, and industrial & system engineering departments. After asking my friends and high school classmates in these three majors, ISE interested me most. I had never imagined that we can also apply engineering principles to a system rather than a physical product, and I think its concept of continuously improving efficiency and eliminating wastes is critical and valuable in lots of modern industries.
Tell us about an interesting internship, extracurricular activity, or research lab experience.
From last summer, I started doing research projects with Professor Heim in our department. The first project we did was to provide suggestions to the managers from Seattle Children's Hospital for their decision on purchasing a pharmacy inventory management system. We used ISE techniques to model the Children's pharmacy inventory system, and after we understood the system by modeling it, we built a sample inventory management database and composed a specification of necessary and suggested functions, allowing the managers to have a better sense of what management product in the market is the most suitable for Children's system.
In this quarter, we are doing another project with Children's. We use simulation techniques to build a model of a conceptual system that imitates Children's retail pharmacy production system to help them find ways of scheduling their staffing resources, improving prescription production efficiency and reducing customers' pick-up waiting time.
Also, I'm currently doing the senior Capstone project with other ISE students. Our team is doing a project with Amazon. Our goal is to use operations research knowledge to come up with an optimization tool, which helps Amazon's cold chain inbound minimize the transportation cost.
What do you enjoy most about ISE?
Since ISE is a field of engineering dealing with systems, in class we had opportunities to get into various kinds of systems, such as manufacturing, medical, and transportation. I found it enjoyable to learn principles and techniques that can be applied to many (almost all) systems we interact with every day in our lives.
What do you like about the ISE department?
I think one of my most correct decisions was to study ISE at UW. All the faculty and classmates in the ISE department are friendly and interesting people to meet. The diversity of the ISE department makes it a lively environment to study in. The faculty are caring, and the students are collaborative.
What advice do you have for prospective students?
If you are interested in engineering and complex systems, ISE is the choice for you. Get connected to the wonderful faculty and classmates, and you will have fun in this great community!