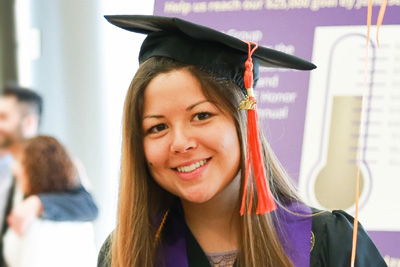 Undergraduate students must fill out an application for graduation with the ISE Academic Adviser in MEB, Room G-7. The deadline for submitting the application is the third Friday of the quarter in which you intend to graduate. If you are graduating in summer quarter but plan to attend the Commencement Ceremony, you must meet the spring quarter application deadline.
It is your responsibility to apply for your degree since degrees are not automatically awarded when requirements have been satisfied. You will also be asked to complete an exit interview and discuss your comments with the ISE Undergraduate Faculty Adviser.
You are expected to graduate with no more than 30 credits over the minimum required, which is 180 credits.
Graduating Senior Priority status
To obtain Graduating Senior Priority (GSP) registration status, you should apply for graduation two quarters before you intend to graduate. GSP registration allows you to register for your last two quarters on the first day of registration Period I. To graduate in June, for example, you would need to apply by the third week of autumn quarter. View the Academic Calendar for a complete list of deadlines.
Commencement
Each June, the ISE department holds a Graduation Celebration for all graduating ISE students. It is typically held the morning of the Seattle Campus Commencement Ceremony. For information on the campus-wide Commencement, visit the Commencement website. Information on the ISE Graduation Celebration is made available spring quarter and is posted on the ISE Calendar.